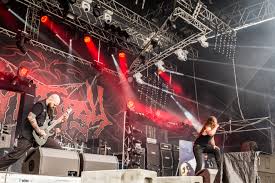 July 2019 - Cryptopsy
Minimum number of participants for this to happen: 4
What this means: You can purchase 1 package, but unless we hit the 4 person threshold by a month prior to the dates, your purchase will be refunded.

Don't you think it's pretty likely that Darkthrone's Fenriz was thinking of Canada's Cryptopsy when he wrote the song Canadian Metal? We at Kaala sure do - those guys absolutely slay!

Which is neat, because the self-described vilest of all Death Metal bands is teaming up with some of Japan and Korea's most promising Death Metal acts - Neuroticos & Vomit Remnants, and Memnoch, respectively - for 2 dates in Osaka and Tokyo that are sure to blow your brains right across the Pacific!
sale
This package is largely centered around the 2 Cryptopsy shows, but there's so much more to do. Here's a run down of what you'll get with the package, and what you can add on to it!
What is included:
A devoted guide fluent in Japanese and with over a decade of experience in Japan's underground scene!

Airfare from Seattle and hotel costs are included! We take care of all the logistics so you can relax and enjoy the show!

1 person per hotel room unless otherwise notified

Note: Japanese hotels are priced by the person, not by room. So even if you squeeze 15 people into 1 room, you'll still be paying for 15 people at the going rate.

Record shopping around Osaka!

A party at Yokohama's heralded Thrash Zone brewpub!

Pre-paid tickets for both Cryptopsy concerts!

Pre-paid transit cards that, in theory, you could use to travel the entire country!

An orientation package upon purchase that will get you prepped for Japan!
But, if you're looking to step up your metal adventure in Japan game, you might also consider:
What you can add (additional charges may apply):
Breakfast & dinner provided for - don't worry about reading the menu, just eat!

And if you like ramen, you'll be in for a few treats ;)

Tickets to a Japanese baseball game!

Explore Kyoto's famed Gion district, and temples, including Kinkakuji, Kiyomizu, and Fushimi Inari!

Interact with the dastardly deer deities of Nara!

An adventure in the historic rural town of Kawagoe!

A dinner cruise in Tokyo Bay, also known as Yakatabune!

A stay at a traditional Japanese luxury inn, or Ryokan!

And much more!
As we retain no liability for any accidents on any of our trips, we highly suggest that you look into travel insurance to ensure that even if things hit the fan, you'll be covered in something other than, well, you know.